Tattoos
What are Tattoos?
Tattoos are created by the introduction of exogenous pigment into the dermal skin layer. Tattoos can broadly be divided into professional, amateur, cosmetic, traumatic, or medical tattoos.
Professional tattoos are applied with a tattoo machine into the deeper layer of the dermis and are applied to be permanent in nature. They generally require repeated treatments to remove. Amateur tattoos are usually smaller, lighter in colour and applied more superficially using handheld needles or homemade machines, which render them easier to remove. Cosmetic tattoos are often referred to as permanent makeup and are increasingly popular. Permanent eyeliners, eyebrows, and lip liners are commonly applied using the process of micro-pigmentation to save time and enhance facial features. However, the inks used often contains pigments that are red, brown, white, or flesh coloured; inks containing titanium dioxide and iron oxide are difficult to remove. Traumatic tattoos are deposited in the skin following abrasion, laceration, or explosive injuries. Such pressurised penetration of dark particles into the deep dermis gives rise to black or blue tattoos, depending on the depth of the pigment.
What is Tattoo Removal?
Historically, the removal of undesired tattoos included destructive techniques such as dermabrasion, salabrasion, chemical destruction, cryosurgery, electrosurgery, and surgical excision. Such non-selective destructive modalities often result in incomplete removal, and varying degrees of scarring and dyspigmentation. Advances in laser and light-based technology have revolutionised tattoo removal, using various wavelengths to target different coloured pigments with relative ease and fewer complications than before.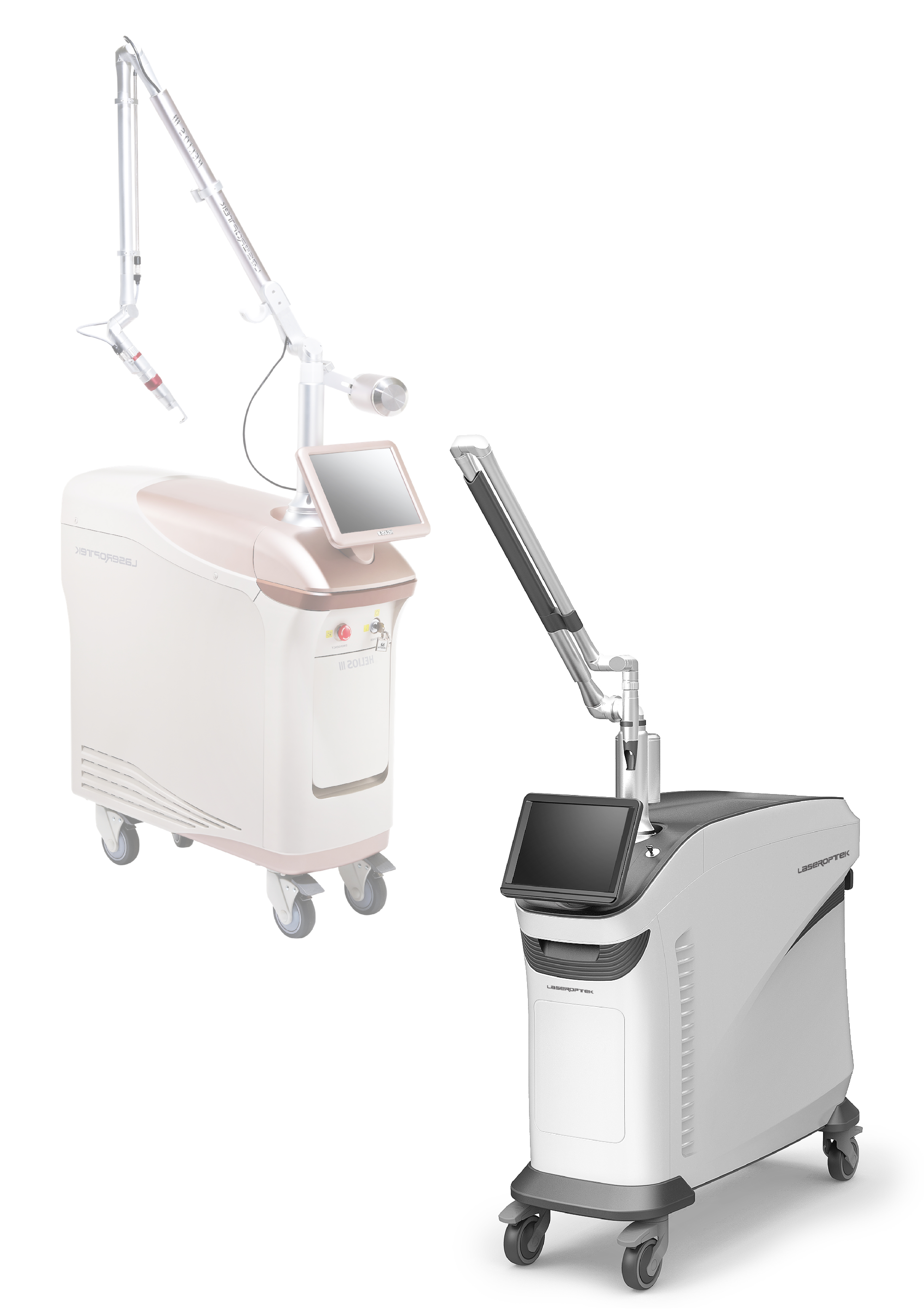 Elogio's Recommended Solutions
Helios III
Helios III is a dual pulsed Q-switched Nd:YAG laser machine highlighted for its effective treatments for pigment removal. With wavelengths of 1064nm and 532nm delivered through four specially designed handpieces, it is capable of targeting pigments present in the different dermal layers of the skin. The inked pigments exposed to the laser absorbs the energy, which fragments and degrades them. Built with a Diffraction Optical Element (DOE) fractional beam, this long-lasting low maintenance machine offers safe and fast treatments with minimal downtime or pain.
PicoLO
The Picolo is a next generation picosecond Nd:YAG laser (1064nm & 532nm) made for treating various skin conditions such as tattoo removal. Diffraction Optical Element (DOE) Fractional Technology has been implemented in the Zoom handpiece to provide the photomechanical effect, in which the chromophores of lesions are fragmented and broken down through thermal and acoustic stress, thus reducing the appearance of inked pigment. Picolo's toning-specific handpiece provides the largest spot size among other picosecond lasers, allowing for faster and fewer treatment sessions. Combining two effective wavelengths and ultra-short pulses, this machine is safe for all skin types with low or no downtime.
Get
In
Touch
Have questions? Get in touch with us, our product specialist will get back to you as soon as possible.