Description
Introduction
High Intensity Phototherapy Device
SMARTLUX delivers healing power and energy of light composed of red, blue, yellow and IR with high-intensity SLDs (Super-luminous diodes) developed by SMART Phototherapy technologies. From wound healing and pain relief to improvement of dermatological conditions, anti-aging treatment, a boost to skin's radiance, SMARTLUX effects exceptional results with its various wavelengths selection and wide variety of irradiation angle.
Principle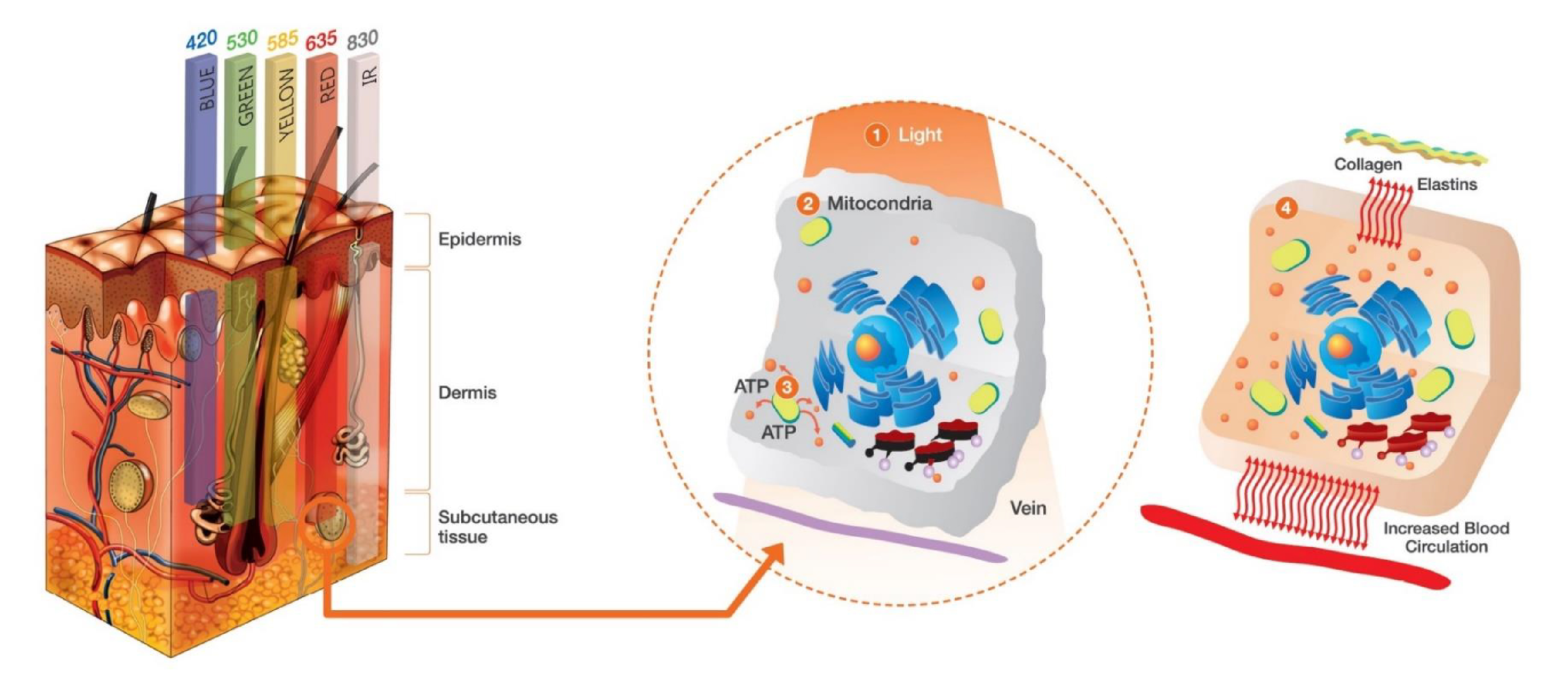 Light penetrates into subcutaneous tissue.
Mitochondria absorb the photon light energy and they are energized.
The stimulated mitochondria produce more ATP, which stimulates cells to be reproduced faster and function lively like younger cells.
The super luminous light promotes cell wall exchange and stimulates the microcirculation of blood. By increasing cell reproduction and improving blood circulation, more collagen and elastin are produced, which leads to reduce wrinkles and decrease healing time. Skin will look younger, plumper and healthier within 2-6 weeks.
Indications
Keratinocytes

Acne

Post-plastic surgery


Bruise

Edema

Vascular Lesion

Hair Scalp

Skin recovering

Wound healing

Anti-inflammation

Pain Relief
Technical Specifications
Type
Diffusion Brand
Composition
All in one type
Lamp Type
Multiple Lamp Type
(A lamp has three lights)
Head Options
Head1 (Blue + Red + IR)
Head2 (Yellow + Red + IR)
Head3 (Blue + Red + Yellow)
Number of SLD
Head1: 4,320EA (1,440EA per color)
Head2: 4,320EA (1,440EA per color)
Head3: 4,320EA (1,440EA per color)
Wavelength
Head1: Blue-420nm/Red-635nm/IR-830nm
Head2: Yellow-590nm/Red-635nm/IR-830nm
Head3: Blue-420nm/Red-635nm/Yellow-590nm
Intensity
(MAX)
Head1:B+R+IR=28mW-90mW/cm2
Head2:Y+R+IR=20mW-75mW/cm2
Head3:B+R+Y=20mW-90mW/cm2
I would like to book a free demo