Description
Introduction
Ultra-Short Picosecond Laser
PicoLo Premium is the 2nd generation of LaserOptek's award-winning picosecond laser, the PicoLo, designed to treat pigmentation lesions, perform tattoo removal, scar correction, and skin rejuvenation.
Picosecond lasers have 100 times shorter pulse durations than Q- switched Nd:YAG lasers. Due to their short pulse durations, picosecond lasers are known to generate high peak power levels, resulting in greater photomechanical effects and less desirable photothermal effects, minimizing unwanted heat diffusion.
This ultra-short pulse targets pigmentations more effectively, minimizing discomfort, pain, side effects, and downtime. Providing the largest spot size to allow faster treatments, this award-winning design and compact size will provide you with a more convenient procedure environment.
High Stability Genuine Picosecond

Versatility

Faster

Compact
Photomechanical Effect By Doe Fractional Laser Beam
LASEROPTEK adopts DOE technology to its fractional handpieces. DOE (Diffractive Optical Element) is designed to split a single laser beam into a predefined number of beams. Each microbeam has uniformed energy intensity and penetration depth. The characteristic of DOE is that the quality of the output laser beam is independent of that of the input beam, which helps the output laser beams be uniform and stable all the time.
PicoLO's DOE Fractional Laser Beam can safely generate optical breakdown in tissue, leading to an enhanced inflammatory healing process resulting in the production of collagen and elastin.
Unveiling the Brand New Dia FX Handpieces
Zoom

Collimator

S20 – Large spot size enables fast and efficient treatments

Dia Fx 532 

Dia Fx 1064

– Provides "one-touch" type, 3 step depth control

Dia Fx 1064 S –

Permits precise, targeted treatments in small areas, such as the periorbital region, with a high level of control and safety
Indications
Tattoo Removal

Lentigo

Nevus Ota

Skin Irregulation

Melasma
Freckles

Cafe Au Lait

Wrinkles & Fine Lines

Rejuvenation
Technical Specifications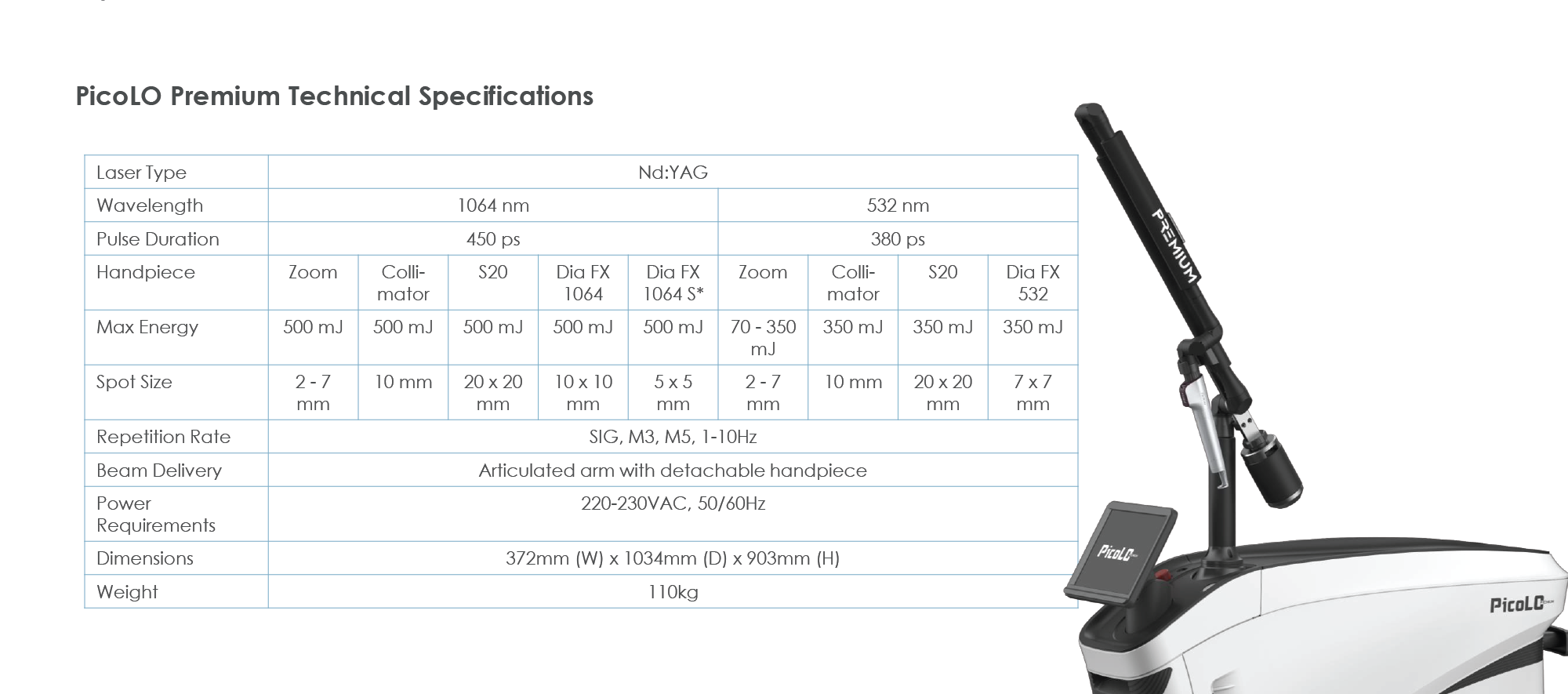 I would like to book a free demo