Description
Introduction
Empowering Nano with Pico
Revolutionary 785nm Picosecond wavelength complements the Nanosecond 1064nm and 532nm capabilities of the HELIOS series to provide the ultimate solution
The Unique Design of Laser Resonator
The HELIOS IV 785's unique design of a solid-state laser resonator enables 1064nm and 532nm nanosecond pulses and 785nm true picosecond pulses to coexist in one platform.
The resonator yields a uniform beam quality and high output energy stability across all three wavelengths, and additionally, the advanced microcavity design is the catalyst that allows high power levels in the 785nm wavelength.
Reveal on Another Level
The HELIOS IV 785 adopts the latest technology to breakthrough industry standards in performance, reliability, innovation, and treatment results.
Features
Advanced Beam Profile Technology – HELIOS IV 785 adopted the most advanced beam profile technology, providing a uniform beam pattern.
Multiple Laser Modes – Combining 3 complementary wavelengths and 5 different laser modalities, the HELIOS IV 785 is capable of performing a wide range of applications in aesthetics and covers the complete absorption spectrum of melanin and oxyhemoglobin.
Patented DOE Fractional Beam Technology – Designed to split a single beam into a predefined number of beams while maintaining spectacular and uniform beam intensity, beam profile, stability, power, and penetration depth. The split beams evenly penetrate the deep dermis while protecting the epidermal skin layer to successfully achieve safe and effective treatments.
Crafted To Perfection – Complemented with a splash of gold, the HELIOS IV 785's interface and a wide array of handpiece colors distinctly challenge industry standards, all to make a statement.
In Summary,
This stable and flat-top beam, emitted across various spot size ranges, wavelengths, pulse durations, and energy settings, significantly reduces side effects such as hyper and hypopigmentation, enabling users to deliver optimal treatment scenarios and satisfaction in their patients.
Skin Brightening & Toning
Benign Pigmented Lesions
Skin Rejuvenation
Tattoo Removal
Indications
Skin Tone

Brightening & Lightening

Skin Rejuvenation

Genesis

Benign Pigmented Lesions

Café au lait birthmarks

Solar Lentiginos, and Senile Lentiginos

Becker's Nevi

Freckles

Melanochiae

Nevus Spilus, Nevus of Ota & Abnom

PIH
Tattoo Removal

Black, Blue, Red, Sky Blue, Green, Red and Purple
Technical Specifications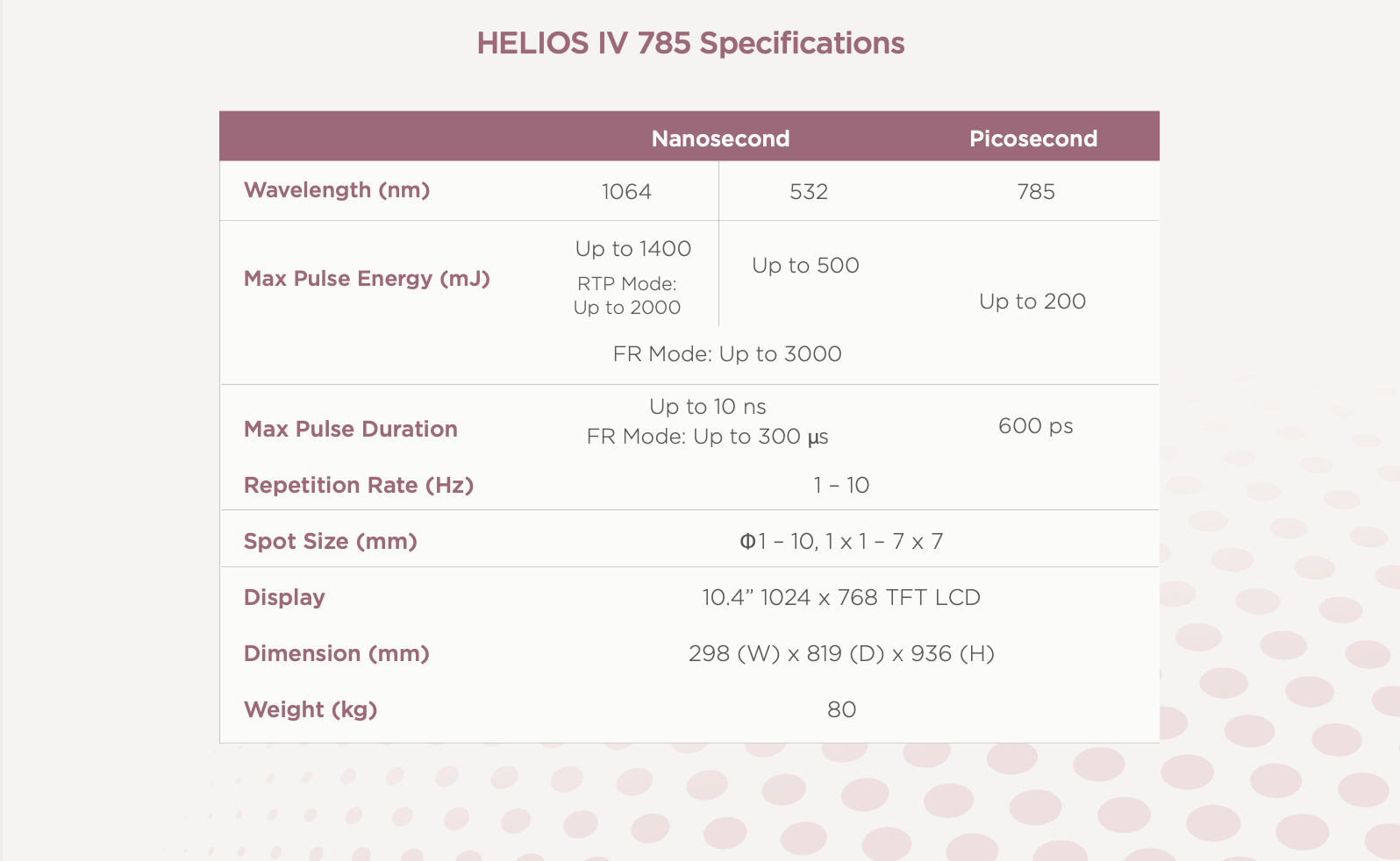 I would like to book a free demo