What is Drug Delivery?
Drug delivery is the method or process of administering a pharmaceutical compound into the body to safely achieve its desired therapeutic effect using a drug delivery device. These devices are specialised tools for the delivery of a drug or therapeutic agent via a specific route of administration.
In aesthetics, there are several drug delivery methods that include transdermal, injections, and pneumatic injectors. Transdermal medications are absorbed through the skin or mucosal membranes and are intended to have an effect in areas of the body away from the site of application. An injection is the act of putting a liquid especially a drug into a person's body using a needle and a syringe.
Among the more recent and revolutionary drug delivery innovations are jet or pneumatic injectors that use a high-pressure narrow jet of the injection liquid instead of a hypodermic needle to penetrate the skin for therapeutic purposes. Pharmaceutical compounds are often introduced into the skin via this method to boost the rejuvenating effects of the induced micro trauma; such as hyaluronic acid for hydration of the skin and botulinum toxin A for the treatment of excess perspiration, also known as hyperhidrosis.
Elogio's Recommended Solutions
Aquaskin II-S
Aquaskin II-S is an injector used for a range of medical aesthetic purposes. This novel technology utilises the gentle suction of a vacuum alongside a 5-pin multi needle injection to safely deliver the active ingredient, for instance hyaluronic acid (HA), into the dermis of the skin in a stable manner. Depending on the active ingredient, Aquaskin II-S can be used for a variety of skin conditions including wrinkles, sagging, rough or dry skin, acne, scars, large pores or pigmentation as it mainly modulates skin tissue regeneration through increased collagen remodelling elastin stimulation. Parameter settings of the treatment can easily be adjusted from the user interface, ensuring accurate control for depth and injection amount of the active ingredient for highest efficiency.
LDM®-MED
The LDM®-MED is an innovative technology that utilises dual-frequency ultrasound waves to address a wide range of aesthetical and dermatological purposes for the skin in which various ultrasound frequencies are concentrated across different depths in the skin. The sonophoresis programme helps to incorporate topically applied active substances into the skin for extra support that results in a longer lasting deposit. At the same time, it reduces matrix metalloproteinases (MMPs), activates heat shock proteins (HSPs) and increases glycosaminoglycans (GAGs) which modulates collagen and elastin, leading to an increase in skin turgidity and skin rejuvenation. The handpieces are manufactured using high quality allergen-free titanium heads with gold elements and an annular contact display, ensuring excellent levels of efficiency in safe and fast treatment sessions with no downtime.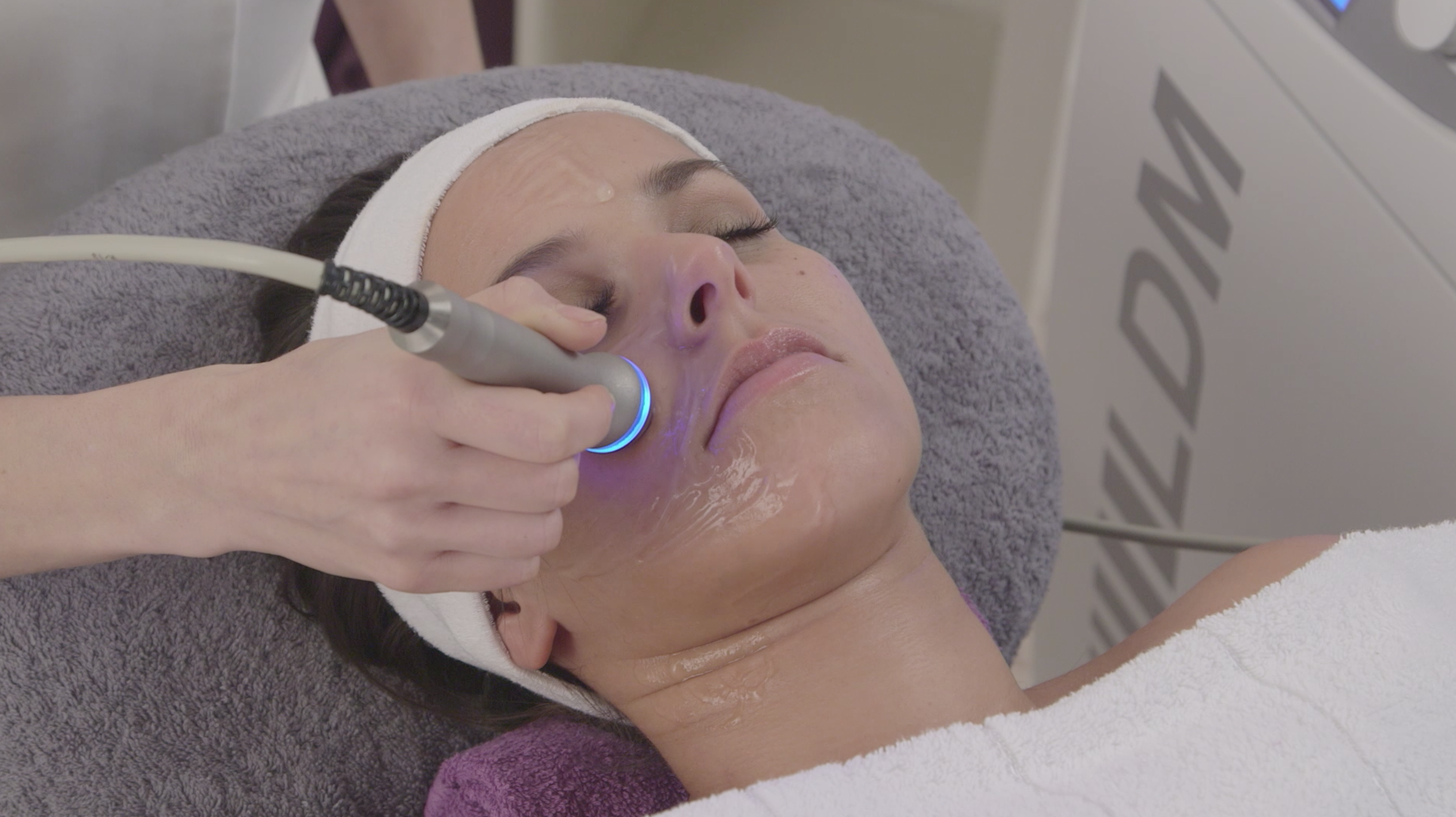 Get
In
Touch
Have questions? Get in touch with us, our product specialist will get back to you as soon as possible.